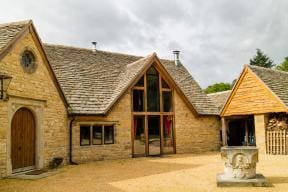 Steel Window Association member helps to transform former workshop into luxury home
When engineer, Ivan Semenenko, decided that he no longer required his former barn and workshop in the heart of the Cotswolds, he pondered a new life for the building. Ivan decided to embark on a project to transform the workshop into a beautiful new home. To create the distinctive steel windows and doors, he called on Steel Window Association member, Cotswold Casements. Trusting in the team's expertise, after having worked together on previous projects including two in Cornwall, Cotswold Casements was seen as the ideal partner; after all the doors and windows are the face of the building!
Ivan designs and leads his own property projects and the original workshop was designed and built by him. The drastic transformation required a complete overhaul of the building's functions and appearance. In order to create the ideal home for Ivan and his wife, a close working relationship was fostered with Cotswold Casements during the design stages. It was decided that an oak timber frame design would be used, and steel windows and doors would be incorporated within the structure. This posed a challenge in terms of possible movement in the oak timbers. To combat this, Cotswold Casements came up with an innovative plan to assemble an additional section, sandwiched between the oak timbers and an oak face plate. This clever design allowed for movement in the timber whilst preserving the steel frames and glazing at the same time.
The project took around four months in total; the work from Cotswold Casements being incrementally introduced at different stages of the build. The details and dimensions required for each area were recorded separately at the finishing stages. It was then possible to manufacture and install the items needed as and when the structure of the individual area reached completion. Each area of the home was then sealed to allow for consecutive works to commence without disruption.
W20 sections, finished with black polyester paintwork and double-glazed units, were used. Espagnolette fittings were introduced to the doors to ensure maximum security both at the top and the base of the units.
Trevor Woskett of Cotswold Casements commented, "As with all projects we are involved with, the hope is for the finished product to turn out exactly as imagined in your mind's eye. This project turned out fantastically with Ivan and his wife loving the look created by the steel windows and doors."
The finished project has since been uploaded to the Cotswold Casements website. The appeal of the rustic meets luxury design has generated a high amount of attention, leading to many subsequent projects for this Steel Window Association member.
https://steel-window-association.co.uk/wp-content/uploads/2021/09/40024-288x-702.jpeg
192
288
Jennifer Clay
http://steel-window-association.co.uk/wp-content/uploads/2021/07/logo.png
Jennifer Clay
2021-02-19 23:12:49
2021-10-03 19:12:07
Steel Window Association member helps to transform former workshop into luxury home