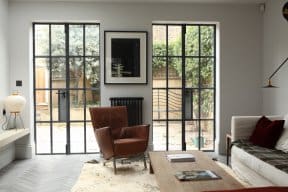 Having originally bought and renovated their Victorian terraced house in Hammersmith, West London, some 16 years ago, Tom and Polly Sykes decided it needed 'top-to-toe' refurbishment. One of the first priorities was the replacement of leaking and outdated wooden bi-fold doors, with double doors from Steel Window Association member, Steel Window Service and Supplies.
The project included considerable remodelling of the four-storey property, including relocating the family living room from the third floor to the ground floor. The Sykes felt that, with their two boys now teenagers, they could take a design-led approach to their home, mixing traditional and contemporary materials. Tom Sykes, who undertakes freelance project management of domestic construction projects, appointed Creese & McKnight and Patrick Lewis Architects to work on the project.
As well as manufacturing and installing the windows, Steel Window Service and Supplies helped with the design process. A total of four sets of double steel doors were introduced into two areas: firstly to the top floor master bedroom within the mansard roof, which opens onto a balcony at the front of the house, and secondly, to the ground floor living room opening onto the back garden.
On the ground floor, the 'expressionless' bi-fold door that extended across the rear wall was removed. In its place, two separate 1.1m wide steel double doors were installed either side of a new brick-built pier to add character and create a strong design aesthetic. A 'T-wash' was then applied to the galvanised finish to provide a distressed look. The exterior glazing was finished with black silicone troweled to mimic traditional putty glazing.
Within the mansard roof, two sets of 1.3m wide steel double doors were installed to replace the existing bi-fold doors which were leaking and suffering maintenance problems. Here, a factory-applied polyester powder coating in RAL 7016 black was employed to give a modern look in keeping with the slate hanging of the mansard.
Peter Creese, of Creese & McKnight, comments: "Steel windows sit very well in both historic settings and contemporary new environments; what's more they are an excellent choice in terms of the range of fittings, hinges and profiles. We had a great relationship with Steel Window Service and Supplies and they had a good understanding of what we were trying to achieve. They were incredibly professional on site and in working to the programme."
Tom Sykes adds: "Steel windows offer a traditional solution with a contemporary feel that has integrity and elegance. Steel Window Service and Supplies were very helpful in terms of explaining the options and helped us to settle upon the 'T-wash' finish that we think is really beautiful. The windows were built and delivered on time and the company's installation crews were really professional and pleasant to work with."
https://steel-window-association.co.uk/wp-content/uploads/2021/09/37968-2-288x-4df.jpg
192
288
Jennifer Clay
http://steel-window-association.co.uk/wp-content/uploads/2021/07/logo.png
Jennifer Clay
2020-05-07 08:15:44
2021-10-03 18:49:37
Steel windows create new design aesthetic in top-to-toe refurbishment