When Mr & Mrs Braithwaite envisioned the plans for this brand-new private swimming pool and gym building, Steel Window Association member, Cotswold Casements was called on to supply the steel windows and doors. Cotswold Casements is an expert in the field of the repair, refurbishment, replacement and installation of steel windows and doors. This enviable reputation is endorsed by the final result of this truly captivating building and the appealing aesthetic created with its impressive fenestration.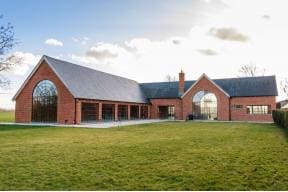 The project was overseen by Adrian Aldred from Building Design; Cotswold Casements supplied and installed new small paned windows and doors, the arched door and window areas having been incorporated within the design. The project took around six months – from the initial quotation and design stages to the finished installation. The final effect has been achieved by implementing five sets of double doors, a single door and several large fixed screens.
The windows and doors were manufactured with a W20 suite of sections and a black polyester paint finish. The versatile W20 portfolio remains a popular choice owing to its records of impressive durability. The windows and doors were also glazed with toughened sealed units secured with a bead system, for longevity, hardiness and practicality. Steel window and door frames are a popular choice not just for the looks but also for the inherent strength of the frame which will now add a robust layer of security to the building.
Trevor Woskett from Cotswold Casement's has complimented the appealing design of the building which made the incorporation of the steel frames an appealing process. The combination of the chosen bricks, the slate roofing and the black colour of the windows and doors creates a visually striking end result. The colour contrast is complemented even further by the spectacular size of the windows which fully capitalise on natural light. It is easy to see why Cotswold Casement's has heralded the project as 'one of those that stays with you'.
https://steel-window-association.co.uk/wp-content/uploads/2021/08/Picture-1-2.jpg
192
288
support@yuuzuu.co.uk
http://steel-window-association.co.uk/wp-content/uploads/2021/07/logo.png
support@yuuzuu.co.uk
2021-09-09 17:58:22
2021-10-03 19:11:08
Steel Window Association member helps to create spectacular visuals for this private pool and gym building